NürnbergMesse GmbH
POWTECH 2013
dinsdag, 23 april 2013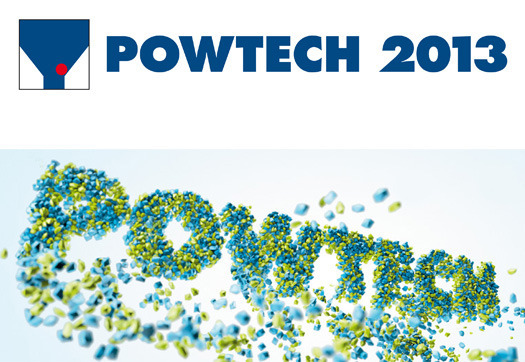 Here are 5 good reasons why it pays to visit POWTECH, the leading exhibition for mechanical processing technologies, in Nuremberg from 23–25 April 2013:
1. 360° view of mechanical processing technologies
A picture is worth a thousand words! So choose the 360° panoramic view of the entire process chain of processing technologies and discuss the leading-edge developments in analysis, size reduction, screening, mixing, conveying, dosing and compacting with the industry's top experts. Whether energy efficiency, sustainability, careful handling or process optimization, POWTECH 2013 as the world's undisputed number one together withTechnoPharm puts the focus on innovations that will change mechanical processing technology.


2. Clear focus on powder, granule and bulk solids technology
As an international exhibition, POWTECH reflects the trends in the industry through its exclusive focus on mechanical processing technologies – for the benefit of exhibitors and visitors. The compact event gives you easy access to the leading suppliers of basic processing technologies for powder and bulk solids, plant engineering and processing components, equipment for measurement, control and automation, products for nanoparticle technology, safety and environmental technology, plus services for mechanical processing technologies.


3. The perfect stage for work, dialogue and new contacts
POWTECH is far more than just a trade exhibition. It is a stage for working and discussing and the exchange of ideas between engineers prepares the ground for valuable new contacts and business relationships. But POWTECH is also the perfect stage for newcomers: As in the past years, young innovative companies show their new product and process developments in the 'innovation made in Germany pavilion'.


4. Inspiration for tomorrow's processing technologies
Meetings, deadlines and pressure of costs. Do you often have no scope for creativity during your daily work? POWTECH 2013 is guaranteed to inspire you with its presentation of pioneering innovations. The accompanying programme shows you the latest trends and product developments in the fields of explosion protection, easy-to-clean solutions, cleanrooms or sustainable packaging.

At PARTEC, the accompanying International Congress on Particle Technology, the papers from practice, science and research are devoted to the development of revolutionary materials for the chemical, pharmaceutical, food or building material industry.


5. POWTECH – the industry barometer
Figures are worth a thousand words! 704 exhibitors from 73 countries, 15,498 trade visitors (including TechnoPharm); the figures for 2011 impressively show the importance of POWTECH for almost all branches of industry, and especially chemicals, pharmaceuticals, metal and food. All the forecasts indicate that value creation in the processing technology segment will carry on growing, so be there in 2013 when the crème de la crème discuss the latest product innovations.
Dit is een activiteit van NürnbergMesse GmbH